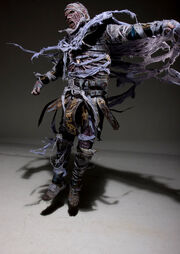 Jussi Sydänmaa (born June 26, 1972 in Mäntsälä, Finland) is the guitarist, and one of the founding members of the Finnish metal quintet Lordi.
He is also known under his stage name of "Amen". His character is an ancient mummy avenger, the god of gods. "Amen was the great Egyptian god Amen-Ra. God of gods. After death Amen was mummified and couple thousands years later he was woken up to play in Lordi. Amen's public secret is women. He's an ancient lover."
He graduated as an Information Technology engineer in 2001 and has been making the website of Lordi.
The municipality of Mäntsälä granted Amen with Hard Rock memorial on June 26, 2006. Amen plays Gibson Les Paul Standard guitars.
Amen also recorded guitar riffs which were used by Ari Pulkkinen to create the soundtrack for PC game Shadowgrounds.
Discography
[
]
Lordi
[
]
Others
[
]
Shadowgrounds soundtrack (2005) (Guitar)
Gallery
[
]