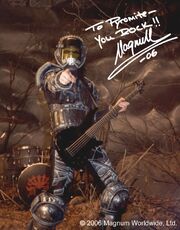 Sami Wolking (born 15 August 1973, Helsinki, Finland) is a Finnish bassist of the hard rock band Lordi.
Using stage name Magnum, Wolking was a member of the band from 1999 to 2002. In 2002, Wolking was fired due to his poor motivation for the band.
Magnum can be seen in the music video for Would You Love a Monsterman? and played bass on Lordi's first album, Get Heavy. He also recorded the un-released Lordi album Bend Over And Pray The Lord, but did not play bass on it.
Today, he plays bass in the band Naked Idol. Naked Idol is a rock band from Espoo, Finland.
Bands
[
]
Noroses
Lordi (1999-2002)
Naked Idol (2006-)
Character Background
[
]
Magnum was a cyborg from an advanced civilization originating in the Alpha Centauri star system. As a mercenary, he fought in the defense forces of Mu Arae. Eventually killed in action, he was then resurrected as an undead cyborg. After following escaping Mu Arae manbeasts to Earth, Mr. Lordi found him and proposed an alliance. Magnum's first appearance was in the fictional comic book Monsterican presents: The Cyber-Zombie from Outer Space #1.
Discography
[
]
Lordi: Would You Love a Monsterman? (bass, backing vocals)
Lordi: Get Heavy (bass, backing vocals)
Lordi: Last Kiss Goodbye (bass, backing vocals)