Jurassic World: Dominion Dominates Fandom Wikis - The Loop
Play Sound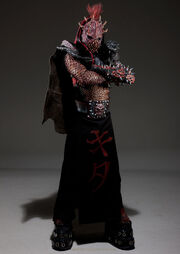 Sampsa Astala, (born January 23, 1974 in Vantaa, Finland) is a Finnish musician and the drummer for Lordi. His stage name of Kita comes from the Finnish word meaning "jaws", "gap", or "maw".
He joined Lordi in 2000 and with the band, went on to win the 2006 Eurovision Song Contest. In recognition, the city of Karkkila, where he spent his teenage years, named its youth facilities after him.
Despite claims that Lordi is a satanic band, Kita thanks "Almighty God" on the "Thank you to..." list on his records.
Kita arranges and performs all backing vocals on the CDs, but he can't sing live due to his mask. Astala also performed as the lead singer of a finnish glam rock band called 'so.' In 2010, Astala left Lordi so he could return to "So.", now known as "Stala and So.". In this band, he performs unmasked and now goes by the stage name "Stala".
Character background
[
]
Kita is a manbeast from an ancient alien race. Originally a brutal battle beast from the Mu Arae star system used in combat, he was sent to Earth for an unknown purpose.
The time-traveling Mr. Lordi found Kita in the mountains of Himalaya, enslaved by a snake demon. After Mr. Lordi defeated the demon, Kita allied with him.
It is not known if Kita is actually the name of the whole race or the individual. It is rumored that Earth's Yeti stories originate from sightings of members from Kita's race sent to Earth, which may link them to the Mi-Go of the Cthulhu Mythos.
Diskography
[
]
Lordi
[
]
Stala and So.
[
]
It is So. (2010) (lead vocals)
Play another round (Lead vocals)
Others
[
]
Apulanta: Hiekka (2002) (back vocals)
Järjestyshäiriö: Levoton (EP) (2004) (producer, recording, back vocals)
Hanna Pakarinen: Lovers (2007) (back vocals)
Pete Parkkonen : First Album (2009) (Composer)